"History is who we are and why we are the way we are."
–David McCullough
In California bill, SB48, hopefully to be signed by Governor Jerry Brown, seeks to help correct a longstanding and bitter historical wrong. No…not the absence of gay history in the classroom…
School textbooks evolve, just like the society the pages describe. The contributions of African Americans, Latinos, Asians and women – all missing or minimized in decades past – are now more fully and accurately portrayed in textbooks and other instructional materials. The role of gays and lesbians also deserves fair treatment in lessons about the development of this state and nation.

That's the simple and forceful premise behind a bill, SB48, now on Gov. Jerry Brown's desk. But the idea of highlighting gay people's contributions still draws controversy in a state where same-sex marriage remains illegal and a political wedge issue. In this case, the opposition is misguided about what's at stake.
Ostensibly the bill is intended to improve awareness of the contributions of gay people to history. That's a worthwhile goal in and of itself and as the second paragraph above notes, the usual suspects are raising a ruckus about it.  But positive images of gay people are not what the opposition is afraid of.  Here, in the Catholic Reporter, the real problem is daintily addressed…
Bishops oppose bill on gays in textbooks

William May, chairman of a California-based group called Catholics for the Common Good, said in a June 16 letter to the head of the state Assembly's Education Committee, that problems around bullying are not going to be solved by "cosmetically sexualizing social studies" in the state's public schools.

He said unjust discrimination against gays and lesbians "is an important fact that must be taught and not forgotten, but this bill will not affect that." He also said the bill's language was "so vague, and subject to such broad interpretation, that it can only lead to confusion, conflict and the potential for complaints and litigation."
Note the formulation "unjust discrimination".  There's the problem.  Here's the naked fear of this bill:
U.S. shifts policy on same-sex bankruptcies

The U.S. Justice Department has dropped its opposition to joint bankruptcy petitions filed by same-sex married couples in a victory for supporters of gay marriage.

The policy change is the latest setback for the 1996 Defense of Marriage Act (DOMA), which has come under increasing pressure since the Obama administration said in February that it would no longer defend its constitutionality.
The filing by the Obama Department of Justice goes beyond simply bowing out of the case…it makes a dazzlingly clear cut case that DOMA is an unconstitutional attack on a suspect minority that has suffered a long history of legal and social persecution:
Justice Dept. brief against DOMA lauded as 'watershed moment'

LGBT rights supporters are heralding a recently filed legal brief against the Defense of Marriage Act – the first of its kind against the anti-gay law from the Obama administration – as a landmark document that will aid in bringing about the end of DOMA.

…

Notably, the brief recalls the U.S. government's role in discriminating against LGBT people in its description of the ways in which LGBT people have received different treatment over the course of history. The Justice Department recalls that former President Eisenhower signed an executive order adding "sexual perversion" as grounds for dismissal for federal employees.

"The federal government enforced Executive Order 10450 zealously, engaging various agencies in intrusive investigatory techniques to purge gays and lesbians from the civilian workforce," the brief states. "The State Department, for example, charged '"skilled" investigators' with 'interrogating every potential male applicant to discover if they had any effeminate tendencies or mannerisms,' used polygraphs on individuals accused of homosexuality who denied it, and sent inspectors to 'every embassy, consulate and mission' to uncover homosexuality.'"
The full text of the brief is Here (PDF). It also reads in part:
In order to identify gays and lesbians in the civil service, the FBI "sought out state and local police officers to supply arrest records on morals charges, regardless of whether there were convictions; data on gay bars; lists of other places frequented by homosexuals; and press articles on the largely subterranean gay world"

The United States Postal Service ("USPS"), for its part, aided the FBI by establishing "a watch list on the recipients of physique magazines, subscrib[ing] to pen pal clubs, and initiat[ing] correspondence with men whom [it] believed might be homosexual." The mail of individuals concluded to be homosexual would then be traced "in order to locate other homosexuals."
Now consider this, and ask yourself how many times you have heard comparisons of the struggles of gay Americans and black Americans denounced because gays never were sold into slavery, never had to ride the back of the bus, never were denied the right to vote.  Or comparisons with antisemitism denounced because gays were never herded into extermination camps.  How many times have you heard the struggle for gay equality dismissed as the pastime of privileged rich white men.  How often have we heard, and still hear, that laws protecting gay people from discrimination are unnecessary, are really just about seeking social approval.
Below is how Mad Magazine looked at our struggle back in 1971.  I include this to show what the popular view of our struggle was so shortly after Stonewall, not to be pointing a finger specifically at Mad.  This was how our struggle was commonly viewed back then and Mad like a lot of publications is way, way nicer to their gay readers nowadays.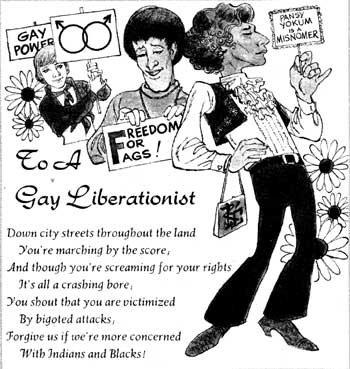 Mad #145, Sept '71, from "Greeting Cards For The
Sexual Revolution" – "To A Gay Liberationist"
Forgive us if we're more concerned with Indians and Blacks…  So easy to say, when the shear brutality of anti-gay persecution was so completely unknown to most Americans.  But of course to know that history they would have only had to look…
The Last Police Raid on Gays of Fire Island

…my mind went back to starting as a reporter at the daily Long Island Press in the 1960s covering police and courts when a Suffolk County custom was the annual police raid on the gay communities of Fire Island, a barrier beach on the Atlantic and a diverse summertime haven for New Yorkers.

Boatloads of Suffolk police would make a night-time assault on Cherry Grove and Fire Island Pines. Prisoners were dragged off in manacles and charged with morals violations. All would plead guilty, most being from the city and frightened about casting their lot with Long Island locals. And, no question, this was a variant of a witch hunt. Police stressed, in notifying the press about the arrestees, where they worked and what they did. They wanted to get these guys in trouble.
But looking at what was happening to us was exactly the problem.  There was no news footage back then of gays being dragged off in manacles because we were considered too disgusting to even talk about in family newspapers, let alone on TV.  And when we were talked about, it always had to be in the most reassuringly scary and disgusted terms…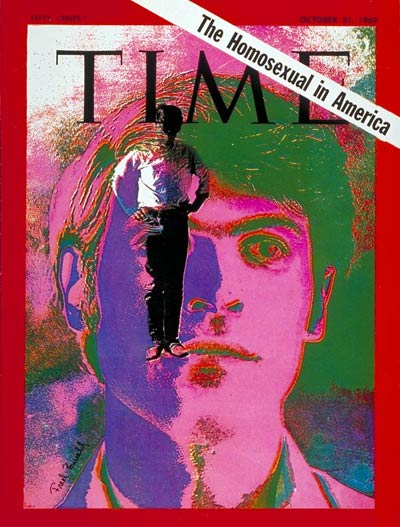 We had to fight just to be seen, before we could fight to have our stories told.
Some years ago I watched a documentary on Logo about the gay history of Fire Island. During a time when same-sex couples risked arrest for dancing together the police would patrol the streets around a club called the Botel and arrest random young men as they left. On those nights the bartenders would get the word somehow and warn people not to leave the club alone, but go out in large groups. Typically the police would arrest at least twenty gays. There was a large telephone pole near the Botel, that had a chain fastened to it, and as the police would randomly arrest gay men as they left the Botel they would cuff them to the chain…one by one…until they had their twenty for that night.
No, we never rode the back of the bus. We rode the boat back to the mainland and to jail. We sat in the cells of all the 50 states where sodomy laws put us. As Neil Miller documented in his book, Sex-Crime Panic in sentences of indefinite length in special wings in mental hospitals created specifically for homosexuals. As David Carter documented in his book Stonewall, bars and restaurants could have their licenses revoked if they served us.  And as David K. Johnson documented in his book The Lavender Scare, we were relentlessly witch hunted in the 1950s because even more then the communist threat we were viewed by the republican party as a useful tool to play wedge politics against the democrats with.  And as the Obama Justice Department brief states…
State and local law also has been used to prevent gay and lesbian people from associating freely. Liquor licensing laws, both on their face and through discriminatory enforcement, were long used to harass and shut down establishments patronized by gays and lesbians…State and local police also relied on laws prohibiting lewdness, vagrancy, and disorderly conduct to harass gays and lesbians, often when gay and lesbian people congregated in public… Similar practices persist to this day…
Yes…as a matter of fact…
Police disciplined over Eagle bar raid

Ten Atlanta police officers lied about events surrounding a controversial 2009 raid at a Midtown gay bar, according to an investigative report released this week, and the department on Thursday demoted a commander and placed seven others on administrative duty. Two officers previously were fired.

…

The 343-page report confirmed complaints raised in the lawsuit that officers had deleted call logs, photographs and cell phone text messages, which a federal judge had ordered turned over to the lawyers for men who had filed suit. The report said the officers lied when asked about people being shoved to the floor, city ordinance violations that were witnessed and phone use that night.
Decades since Stonewall and it's still going on.  But at least now there can't be an expectation that we will endure it quietly.  And that has consequences.  Bigotry no longer has the free reign it use to have over us.  Sometimes we win a few.  The closet as it turned out, not only kept us hidden, it kept the crimes against us hidden.
It is the prospect of that history of anti-gay persecution becoming commonly known and understood that terrifies the anti-gay industrial complex.  Because then the need for laws protecting us from discrimination becomes crystal clear.  Because then the hatred at the root of groups like NOM and the Family Research Council becomes sickeningly obvious.  Because then it becomes hard, obscene even, to argue as Maryland Delegate Jay Walker did that,
"I cannot fathom a day in which I will be told which water fountain I can use but at the same time the gay and lesbian community had so many more things that they could participate in that African Americans and immigrants couldn't."
We sure did…
Across the country there was an alarming vagueness in legal definitions as to who might be classified as a sexual psychopath. State laws defined a sexual psychopath as someone who had a "propensity" to commit sex offenses (Michigan and Missouri) or who "lacked the power to control his sexual impulses" (Massachusetts and Nebraska). In most states, however, authorities couldn't just pluck such a person off the street and label him a sexual psychopath. In Alabama, for instance, the suspect had to be convicted of a sex crime first. Under the proposed Iowa legislation, such a person had to be charged with – but not necessarily convicted of – a "public offense." In Nebraska, on the other hand, a suspect didn't have to be charged; all that was needed were certain facts showing "good cause" and the process of classification as a sexual psychopath could begin. And in Minnesota, the only requirements were a petition by a county attorney and an examination by "two duly licensed doctors of medicine."

Whatever their individual wordings, such laws were intended to bring about the indefinite detention of dangerous or socially undesirable people. In all these states, a sexual psychopath could not be released from detention until psychiatrists rule that he was "cured" or at the very least no longer posed a threat to society.

Despite their good intentions, sexual psychopath laws invariably took a catch-all approach to sexual offenses. The intended targets may have been rapists and murderers, but in almost every state with a sexual psychopath law, little or no distinction was made between violent and non-violent offenses, between consensual and nonconsensual behavior, or between harmless "sexual deviates" and dangerous sex criminals. An adult homosexual man who had sex with his lover in the privacy of his bedroom was as deviant as a child murderer. A person who had a pornographic book or photograph hidden in a night table faced the same punishment as a rapist. All these people were lumped into one category – that of the sexual psychopath – and could be incarcerated in a state hospital indefinitely.

New York lawyer and judge Morris Ploscowe, one of the most prominent critics of sexual psychopath laws at the time, found that these were most often used to punish and isolate minor offenders rather then dangerous predators. In Minnesota, which enacted its sexual psychopath law in the '30s, some 200 people were committed to state hospitals in the first ten years of the law's existence, according to Ploscowe. Most were detained for homosexual activity, not for being hard-core sex criminals.

-Neal Miller: Sex-Crime Panic
So many more things we could participate in…
Like the federal government, state and local governments have long discriminated against gays and lesbians in public employment. By the 1950s, may state and local governments had banned gay and lesbian employees, as well as gay and lesbian "employees of state funded schools and colleges, and private individuals in professions requiring state licenses." … Many states and localities began aggressive campaigns to purge gay and lesbian employees from government services as early as the 1940s.

This employment discrimination was interrelated with longstanding state law prohibitions on sodomy; the discrimination was frequently justified by the assumption that gays and lesbians had engaged in criminalized and immoral sexual conduct…

–Defendant's Brief In Opposition To Motions To Dismiss, Golinski v. Office Of Personnel Management.
At one time all fifty states had sodomy laws but never mind that, homosexuals were never really a persecuted minority. At one time bars and restaurants were forbidden from serving known homosexuals but never mind that, homosexuals were never really a persecuted minority. At one time the Post Office with help from the FBI tracked down suspected homosexuals for government witch hunters but never mind that, homosexuals were never really a persecuted minority. At one time homosexuals were rounded up and held indefinitely in mental hospitals, could have their children taken away from them, could loose their jobs, their homes, their professional licenses, their freedom, but never mind that, homosexuals were never really a persecuted minority.
1777 – A committee works on a revised set of criminal law for Virginia. Thomas Jefferson and other liberals attempt to have the death penalty for sodomy replaced by castration for men and boring a hole through the nose of a woman. The committee rejects their suggestion and retains the death penalty.
Nothing to see here…move along…
That is why our history must never be taught.  As long as this history, which is still being uncovered and documented, remains hidden the haters can keep right on posturing as the aggrieved parties whenever we compare our struggle to that of other hated minorities, and their bar stool prejudices toward us to their bar stool prejudices toward others.  They can keep insisting that we do not need the protection of the courts because we are not a suspect class and were never really persecuted to begin with. That we are merely a small group of privileged mostly rich white men who are seeking special rights at everyone else's expense. That they are not bigots whose concern was never about anything more then that their hatreds always have free reign over the lives of those they hate.  Forgive us if we're more concerned with Indians and Blacks. That is why our history must never be taught.