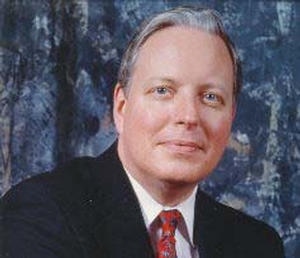 Another soldier in the anti-GLBT Christian army has left the battlefield. Paul Weyrich, co-founder of the ultra-conservative Heritage Foundation, is dead.
From the foundation's blog:
Paul M. Weyrich, chairman and CEO of the Free Congress Foundation and first president of The Heritage Foundation, died this morning around 1 a.m. He was 66 years old. Weyrich was a good friend to many of us at Heritage, a true leader and a man of unbending principle.
Sadly, when he walked this earth, Weyrich was not such a good friend to his GLBT brothers and sisters. His "unbending principle" led him to work long and hard — using any means necessary, even deceit — for the continued stigmatization of the inclusive gay community.
As leader of the neoconservative Heritage Foundation, Weyrich became the point person for the fundamentalist/radical-Right takeover of the Republican Party. He personally served as a social-issues watchdog whose primary job was keeping anti-GLBT and anti-choice issues in the public eye. His reported ties to Nazi collaborators and neo-fascist organizations gave him dangerous access to federal agencies, including the Central Intelligence Agency. Through the Free Congress Foundation, which he led until his death, Weyrich played a huge role in formulating the plan to play upon ignorant people's unfounded fears about gays and in using the GLBT community as the hook in fundraising, spreading propaganda and terrible lies, motivating the Christian masses to become grassroots activists, and recruiting right-wing candidates for public office. His work and collaborations with the late Rev. Jerry Falwell led to the establishment of the Moral Majority in 1979 and to the political polarization of the US between red and blue states.
Paul Weyrich may be gone, but the culture war that still rages and keeps GLBT Americans under society's boot has much to do with everything he did during his career. After all, he fired the opening shots. We'll hear much about his status as a "great American" and "conservative icon" over the next few days, but GLBT Americans are painfully aware that in terms of real American values — honesty, equality, justice for all — there was little that was great or iconic about him.